I admittedly hadn't started watching Creamy Mami until recently. I always thought it was cute but I finally began watching in within the past few months and I love it. So of course I had to get this jacket with birthday money as soon as possible. I had never ordered from
Sheinside
before but I thought it would be okay because I know a lot of bloggers work with them. I'm not one of those bloggers so my opinion is not at all related to their company because I bought their product myself and it wasn't provided for free from them. The website is a little strange because it seems like they buy a lot of items in bulk of Taobao, saving you the trouble of using a shopping service. The issue is that a lot of artwork isn't licensed, somethings are knock offs or stolen work entirely. I did my fair share of research before purchasing this jacket, trying to see if the artwork was stolen aside from the character in general. I could not find this product or graphics created by anyone else. Maybe it's not an officially licensed product, but I can't find any evidence that the artwork or design were stolen, unlike some of the Galaxxxy items on their website.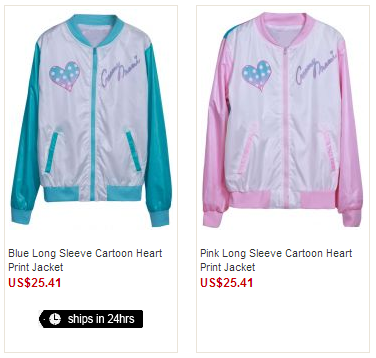 I chose the pink one but they are both super cute. The graphics are exactly the same. It's only the sleeve and trim colors that vary between the two. It's priced at $25.41 and
Sheinside
offers free shipping and order tracking on all orders which is always a plus. You also get 20% off your first order so remember to use that with your purchase! I used it and so the jacket and free shipping ended up being $21.60 total. They also have a point system that awards you points for every order that you can use towards other purchases.
The one thing about Sheinside is that you have to buy it with Paypal and can't just type your credit card information into the website. I had to make sure I had Paypal set up with my bank account because when I only had it connected to my card, it was charging me a fee!
I placed the order on August 30th and it got to me 6 business days later on September 9th. Not bad for free shipping from China. Here are two shots of the mailer it came in plus the little bag that it was packaged in.
It's really cute that they put my order in the ziplock bag but it was kind of smushed up in there so it ended up being a bit wrinkled when I took it out. The instructions said to hang it in a warm place to get out all the wrinkles, but I guess my closet wasn't warm enough. Maybe I will hang it outside on a warm day and see what happens. For now it's still a bit wrinkled but it's not that bad really.
The graphic on the back is a little blurry but I feel like it's not so bad because it kind of adds to the ~dreamy~ aesthetic.
As someone who has sewing experience, I can tell you that this product is very well made. There weren't any loose ends and all the edges are well finished etc. It really doesn't feel like it's going to fall apart.
The jacket is lined with this mesh type material and the outside part of the jacket is a very thin material. The neckline and the ends of the sleeves are similar to those of a sweater. It's very much like a sport jacket but way cuter. It won't keep you too warm on its own but it's good for fall or layered over a cardigan.
I have some photos of myself in the jacket just for reference. The jacket is one size only and since I am usually a small or 2-4, it looks rather large on me. I'm also 5'5" ish so it's kind of long and reaches my butt, just to give a size reference. I took these photos with self-timer in my back yard and while I have mastered using my camera to take photos of other people, I haven't quite got it for photographing myself so forgive me if they're a little silly looking.
This isn't so much an outfit post as it is a review but if anyone is curious:
Top: Sailor Moon tank given to me by one of my sister's old friends
Skirt: American Apparel
Socks: Uniqlo
Shoes: BDG by Urban Outfitters
Hair Clip: Bought in Harajuku
In summary, I would rate this a 4.5 out of 5.
The shipping was super fast, the quality is pretty good but my only complaint was how it wasn't that nicely folded when it was shipped so it's a bit wrinkled.
Please feel free to leave a comment if you have any questions. I hope this helps!